Alumni
Chapters and Groups
Staying Connected
Reflecting diverse interests and backgrounds, our alumni chapters and affinity groups—people connected by a common interest or goal—help to strengthen FDU, while providing personal and professional networking opportunities for members. Each chapter or group is led by alumni volunteers with support and guidance from the Office of Alumni Relations.
Black Alumni Chapter
The BAC implements a mentorship program and plans events to strengthen relationships and communication with Black FDU students while building a collaborative professional alumni network. The chapter seeks to support the University in its ongoing effort to improve diversity, inclusion, and racial sensitivity for Black and Caribbean students.
CONTACT INFORMATION:
President: Juzetta Linder, AA'90, BA'92
Board of Governor Liaison: Nycol Morrisey, BA'95
E-mail the Black Alumni Chapter
FDUArts Alumni Chapter
The FDUArts Alumni Chapter is for graduates who hold a bachelor of arts or a master of fine arts degree. It is also for alumni working in the acting, singing, fine and studio arts, graphic design, film, animation or creative writing fields, no matter their degree. The chapter provides a platform of support to arts alumni and students including networking, intellectual growth and professional development. It also offers spring senior thesis support.
CONTACT INFORMATION:
President: Michael Ramos, BA'00
Board of Governor Liaison: Elizabeth A. Catrini, BS'85, MBA'89
E-mail the FDUArts Alumni Chapter
Graduates of the Last Decade Chapter (GOLD) Alumni Chapter
This chapter brings together graduates within the last ten years to help them make and keep connections with other alumni for networking purposes. The chapter hosts an annual Homecoming event at the Florham Campus — a chance to catch up and connect with other alumni — and other events to foster these connections.
CONTACT INFORMATION:
President: Jairo Martinez, BA'17
Vice President: Noelle Shirey, BA'17, MA'18
Board of Governor Liaison: Robert J. Stock, BS'83
E-mail: Jairo Martinez or Noelle Shirey
Hospitality & Tourism Alumni Chapter
The chapter creates a network and forum with opportunities for continued professional development, socialization and networking, keeping alumni connected to the University, each other, students and the school. Programming is focused on serving alumni from the International School of Hospitality, Sports, and Tourism Management and any alumni currently working in those industries, regardless of their degree.
CONTACT INFORMATION:
President: Agnieszka (Agnes) Zaranki, BS'05, MS'05
Immediate Past Co-Presidents: Joe Cozza, BS'74 | James Earley, BS'85
Director of Events: Erin Cotterell, BA'19
Director of Membership: Joshua Germain, BS'21
Director of Marketing: CJ Milano, BS'22, MBA'23
Board of Governor Liaison: Eleanor Davidson, BA'17
E-mail the Hospitality and Tourism Alumni Chapter

Rutherford Campus Alumni Chapter
Remember those late nights at the Park Tavern? Then you must be a Rutherford grad! The place where it all began for FDU...the Rutherford Campus. FDU's original campus occupies a special place in the life of the University and among its alumni. The Rutherford Campus Alumni Chapter focusses on maintaining the bonds and friendships that were formed at Rutherford through an annual alumni reunion, typically held each Spring semester.
To learn more about this Chapter:
E-mail the Office of Alumni Relations
Vancouver Alumni Chapter
The Vancouver Alumni Chapter pools together the resources of undergraduate and graduate alumni from the Vancouver Campus to support current students and other alumni. The chapter is focused on establishing and developing mentorship programs between alumni and students; supporting student scholarships; connecting alumni, regardless of their geography through on- and off-campus events and projects; and building a professional network for alumni.
CONTACT INFORMATION:
President: Paramith Rudrappa, MAS'20
Board of Governor Liaison: Eleanor Davidson, BA'17
E-mail the Vancouver Alumni Chapter
Veterans Alumni Chapter
The chapter allows veteran alumni the opportunity to get together, meet other veteran alumni, network, rekindle old friendships and, most importantly, find ways to mentor young veterans completing their education at FDU.
CONTACT INFORMATION:
President: First Sergeant Luis Layme, BA'17
FDU Liaison: Martha Papson Garcia, Director of Veterans Services for Outreach
E-mail the Veterans Alumni Chapter

Wroxton Alumni Advisory Council
Stay connected with Wroxton College, your classmates and your favorite Wroxton staff. Join us at an upcoming Wroxton event; volunteer with the Wroxton Advisory Committee or Class Ambassador Program; or join us on our annual Wroxton Summer Getaway trip to the Abbey. There are many opportunities for you to continue your Wroxton Experience long after your first visit; or get a taste of the Wroxton Experience if you missed out in college.
CONTACT INFORMATION:
Chair: Kenneth Malagiere, BA'05
Vice Chair: Katy Campbell, Wroxton Spring 1982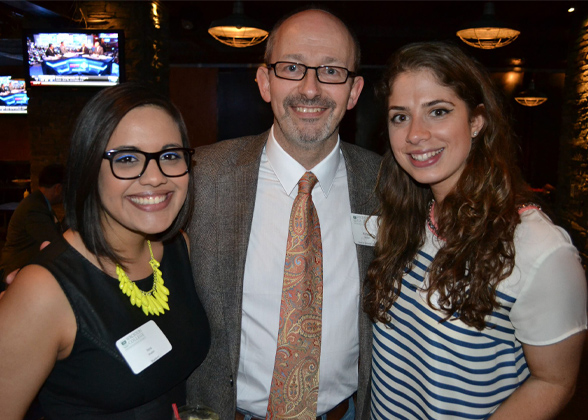 Young Alumni Association
The Young Alumni Association (YAA) works to build and help maintain lifelong relationships among FDU alumni. The YAA is for all FDU alumni who have graduated in the past 15 years; age is not a factor. Young alumni can grow their networks, stay connected or reconnect with other alumni and friends; give back to the University and community; receive guidance on the transition from student to alumni life; share information; attend activities targeted to their needs and interests; and participate in career-development programming.
CONTACT INFORMATION:
President: Hope Field, BA'04, MA'07
Board of Governor Liaison: Patrick J. Maguire, BA'81
E-mail the Young Alumni Association